This stove has been great, very efficient, heats our 2700sqft ranch very nice, living room kitchen and dining room stay in the 75deg range and the bed rooms stay in the low 70s. The loaded box and what you see in the small wood rack to the left will last over 24 hours. It's easy to get started, you can burn for about 4 days before you have to remove any ashes.
Only 3 real problems with this stove,
1. it has an auto fan on temp switch, mine stopped working last year and it fails with the fan off... NOT A GOOD THING with a loaded fire box, I have since bypassed the auto fan switch and installed my own manual switch.
2nd problem I see is closing the dampener all the way actually only closes 3/4 of the way, so you can not starve the fire out,
3. The only way into the fan system and electronics is through the floor of the firebox, would have been nice to go from under the front, especially when the fan malfunctioned.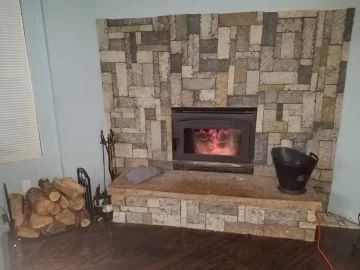 Last edited by a moderator: